Loving Henri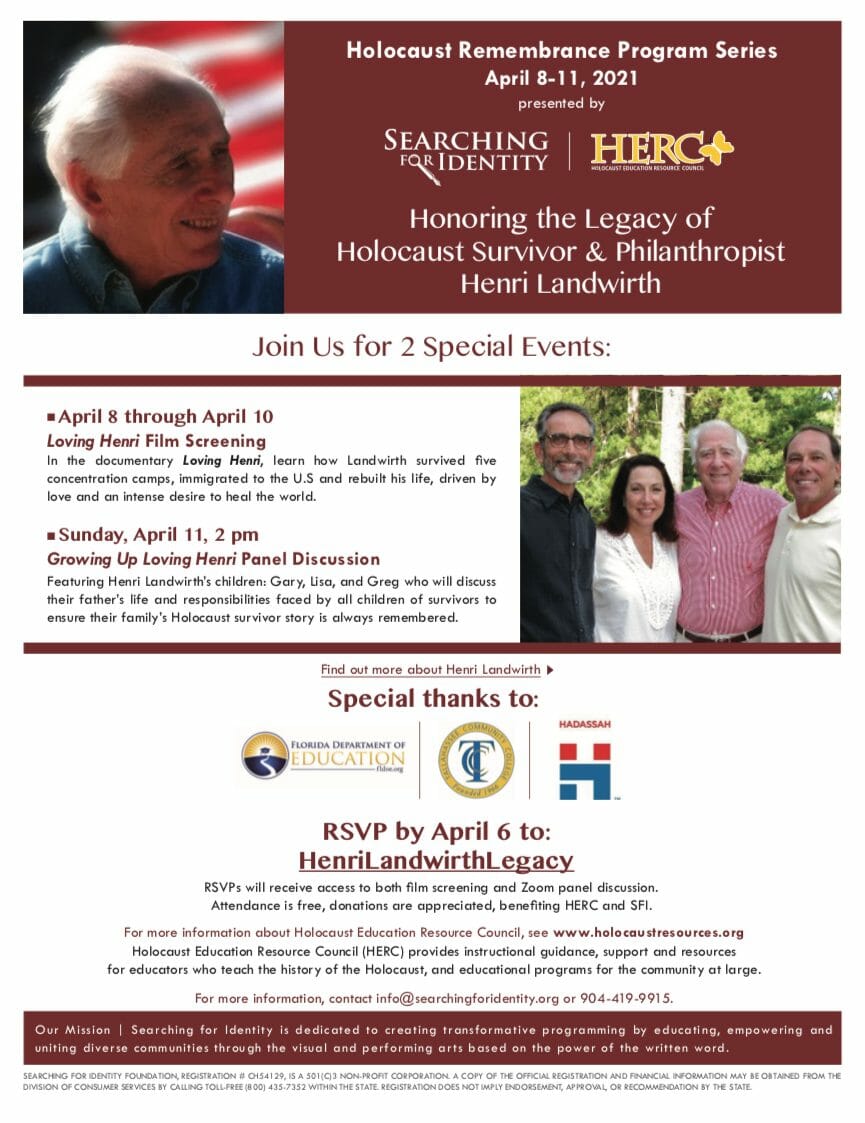 For Immediate Release
Lisa Petyak
Holocaust Remembrance Programming Series Honors Holocaust Survivor & Philanthropist Henri Landwirth Legacy With 2 Events
In commemoration of Yom HaShoah, Holocaust Remembrance Day, Searching For Identity and the Holocaust Education Resource Council will present two events honoring the Legacy of Holocaust Survivor and philanthropist Henri Landwirth. You are invited to join us:
April 8 through April 10 – Loving Henri Film Screening
Watch the documentary Loving Henri. Learn how Landwirth survived five concentration camps, immigrated to the U.S. and rebuilt his shattered life, driven by love and an intense desire to heal the world.
April 11, 2 pm, Sunday – Growing Up Loving Henri Panel Discussion
Attend the Growing Up Loving Henri panel discussion featuring Henri Landwirth's children Gary, Lisa, and Greg, as they discuss their father's life and the responsibilities faced by all children of survivors to ensure their family's Holocaust survivor story is always remembered.
"It is an honor to recognize an inspiration for giving to others. Holocaust survivor Henri Landwirth will be remembered for his spirit of giving. He will always be remembered in Florida and beyond as a generous human being," said HERC Director Barbara Goldstein.
By the end of the Nazi regime, Landwirth's entire family had been murdered, except his twin sister, Margot.
After the war, Henri Landwirth immigrated to America, served in Korea, used his GI benefits to learn hotel management and literally launch a stellar hotelier career. Managing the 100-room Starlight Motel in Cocoa Beach, he forged lifelong friendships with the Mercury 7 astronauts and newsmen who resided at the Starlight while covering the space program, including the late Senator John Glenn and the late Walter Cronkite.
When retired from owning several Florida hotels and resorts, he devoted himself to improving the lives of those in need through numerous foundations, including Give Kids The World, Dignity U Wear and many other non-profit organizations. Henri passed away in 2018.
Special thanks to: Florida Department of Education Task Force on Holocaust Education, Hadassah and Tallahassee Community College
RSVP by April 6 to https://tccfl.zoom.us/webinar/register/WN_q2TkQcswR0OTe-azeewn6w
For more information contact info@searchingforidentity.org 904-419-9915.
Click Here to Download Printable PDF